Wood Fireplaces
Wood fireplaces are natural, environmentally-friendly heating options. They use wood as fuel which is a renewable resource to compliment nature's carbon cycle. This gives them low environmental impact.
Below, you'll find the manufacturers' we carry and the more popular models we sell from them. Come into our showroom or contact us for more information on these models or to see more of our selection.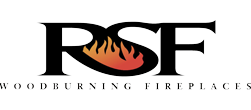 RSF Wood Fireplaces
RSF wood fireplaces are available in catalytic and non-catalytic combustion models. Catalytic fireplaces ignite smoke gases and particles through a coated ceramic honeycomb to burn off harmful emissions. Non-catalytic fireplaces do not use a catalytic element but rather burn emissions through internal characteristics like firebox insulation and pre-heated combustion air through small holes above the fuel source. For more information on catalytic and non-catalytic stoves, please visit the EPA resource here.
Opel 2 Catalytic Wood Fireplaces Series
High efficiency and emission-reducing catalytic combustion
Takes 18" firewood
Burn natural wood only
Features double door design or single door
EPA certified 2015 NSPS particulate emission standards at 2.48 g/hr compliant
Get A Quote
Delta Fusion Wood Fireplaces Series
High efficiency and emission-reducing non-catalytic combustion
Large 4.4 cubic foot firebox that can hold 24" logs
Heats 3,000 square feet or more
EPA certified for burning as clean as 1.3 grams per hour
40,000 – 95,000 BTU
Get A Quote
Visit Our Showroom: 306 Main St, Rapid City, SD 57701Get Directions >
Professional

Installation

Professional installation is available for fireplaces and stoves purchased at our store for your safety and peace of mind.

Installation
Professional

Maintenance

Our products come with full manufacturers' warranties and we service every unit we sell.

Maintenance